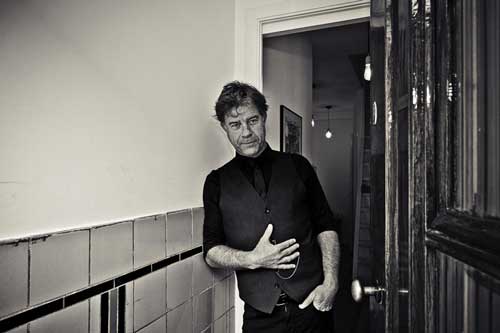 vrijdag 9 oktober, Grote Kerk Groede
Aanvang concert 20:30 uur, deuren open om 19:45 uur
Naar aanleiding van het uitkomen van de dubbel LP Laagstraat 443/Ach, Zalig Man

JW zingt in het Engels, in het Nederlands of in het Brabants. Hij speelt solo, of met band. Maar altijd vanuit het hart en de nummers die op dat moment goed voor hem voelen. In augustus 2019 stuurde JW 's morgens om half 8 een sms-bericht naar zijn boekingskantoor en manager:
"Ik lag vannacht wakker en luisterde Laagstraat 443 en Ach, Zalig Man. Prachtig.
Bedacht me dat ik het zo leuk zou vinden om die liedjes weer te gaan spelen samen met Ruud en Gabriël. En zullen we beide albums op vinyl uitbrengen?
Geen idee of de mensen dat leuk vinden…"
Zij dachten gelijk: "Natuurlijk! Als JW de mensen weet te raken dan is het wel in zijn moerstaal."
Samen met zijn vrienden Ruud van den Boogaard en Gabriël Peters (de bezetting van destijds) brengt JW een ode aan de albums die 15 en 10 jaar geleden uitkwamen. Intiem en oprecht. Over bijzondere plaatsen, op bijzondere plekken!
Beide albums, die rondom de optredens voor het eerst als dubbelalbum op vinyl uitkomen, zijn geïnspireerd op bijzondere plekken voor JW. Jeugdvriend Ruud van den Boogaard woonde op Laagstraat nummer 443 (en volgens welingelichte bronnen is dat nog steeds zo) en het album Ach, Zalig Man verhaalt over de zogenaamde Acht Zaligheden, een achttal dorpen in de Nederlandse Kempen waaronder JW's geboortedorp. Laagstraat 443 was overigens ook het eerste album (15 jaar geleden) waarop de zanger in het Brabants zong.
Het Parool schreef daar destijds over:
De man heeft nog nooit zo goed geklonken. Americana in het Brabants, dat dat kán weet je zodra Roy na een eerste gezingzegde couplet dat tweestemmige refrein inzet. Muzikaal zijn zijn liedjes nog van eenzelfde ruwhouten schoonheid, en Roy's poëtisch directe Nederlands geeft je nou niet eens het akelige gevoel dat je naar kleinkunst zit te luisteren. Jan Willem vertelt je gewoon van zijn oude dorp, zijn gerafelde hart en zijn zuidelijke ziel. Gewoon betoverend mooi.
Deze tour voert JW en zijn manschappen langs een reeks speciale gebouwen. Kerken, fabrieken, herbergen, zolders en af en toe een klein theatertje. Plekken die qua ambiance hun eigen bijdrage hebben aan deze concerten.
Bezetting:
JW Roy: Zang & gitaren
Ruud van den Boogaard: Zang & gitaren
Gabriel Peeters: Zang en multi-instrumentalist (oa drums percussie piano gitaar)
Wilt u sfeervol een hapje eten en toch op tijd zijn voor het concert?
Er zijn ook dit jaar weer Diner-arrangementen mogelijk in samenwerking met Eetcafé en Bierbrouwerij De Drie Koningen
Markt 30 4503 AH Groede. Ze zijn gevestigd vlak naast de concertlocatie.
vrijdag 9 oktober, Grote Kerk Groede
Aanvang concert 20:30 uur, deuren open om 19:45 uur
Kaarten aan de Kassa of via onderstaande link:
Alvast even genieten?
Hier een oudere opname van JW Roy

Links Officiële website: jwroy.nl Facebook: facebook.com/jwroymusic/ Instagram: instagram.com/jw_roy/
Pre-order Dubbelalbum (2LP) "Laagstraat 443 & Ach, Zalig Man": webshop Royal Family Records "Laagstraat 443" op Spotify: https://spoti.fi/2KYguGv
"Ach, Zalig Man" op Spotify: https://spoti.fi/2ZdDoi3