3 tot 30 juli
Flip Schrameijer toont zich in zijn aquarellen en etsen meester in het
vastleggen van de vluchtige momenten van licht en lucht, wind en water.
In de Grote Kerk Groede vind je een reeks kunstwerken uit zijn oeuvre.
3 TOT 30 JULI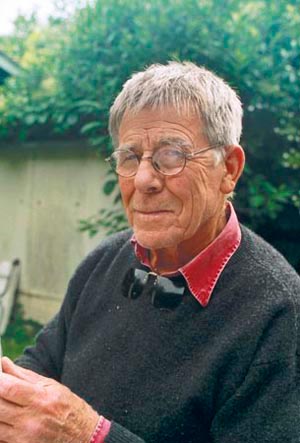 Kunstschilder Flip Schrameijer (1919-2007) werd in Amsterdam geboren.
Hij behoorde tot de generatie figuratieve schilders opgeleid aan de Rijksacademie rond 1950.
In de periode '55-'70 schilderde hij stillevens en legde veelvuldig het gezinsleven vast. In die tijd schilderde hij ook portretten in opdracht en gaf hij les op diverse instituten.
Later ontwikkelde hij zich vooral als aquarellist, graficus en tekenaar. Zijn hoofdthema is altijd de natuur geweest, vooral de waterkant. Van jongs af aan had hij een passie voor tekenen. Het weergeven van zijn omgeving in eenvoudige, duidelijke lijnen is altijd zijn drijfveer geweest. Zijn inspiratiebronnen waren hierbij het werk van Paul Cézanne en Henri Matisse.
Schrameijer toont zich in zijn aquarellen en etsen meester in het vastleggen van de vluchtige momenten van licht en lucht, wind en water. Met kleur, verf, penseelstreek en hier en daar een inktlijntje streeft hij in zijn aquarellen telkens opnieuw naar de verdere vereenvoudiging van zijn onderwerpen: een surfer, een zeilboot, een ruiter of een wandelaar getroffen in het juiste licht.
In zijn etsen zijn markante bouwwerken, kusten en luchten het onderwerp, vaak doorsneden door lijnen van hoogspanningsmasten, een hengel of met een boom op de voorgrond.
Hij blijft experimenteren. Eind jaren '80 schildert hij met acryl op paneel variaties van stillevens in tonen blauw en groen. En op hoge leeftijd pakt Schrameijer nog een nieuw onderwerp op: Leda en de zwaan. Met pen, pastel of gemengde techniek onderzoekt hij dit thema op de meest uiteenlopende manieren, gebruikmakend van alle mogelijke dragers, zoals achterkanten van briefpapier en enveloppen.
Het boek "Licht en lucht, wind en water, een keuze uit 60 jaar werk" (nog altijd te koop), geeft een goed beeld van het gevarieerde oeuvre van een gedreven kunstenaar die het moment wist te pakken en die zich bleef ontwikkelen.

Een kort filmpje van de dochter van Flip Schrameijer