Groede Live! presenteert zaterdag 29 april 2023: Gumbo Kings
Aanvang concert 20:30 uur, deur open vanaf 19:45 uur
staconcert, beperkt aantal zitplaatsen

"The newest sensation in Soul and Rhythm 'n Blues on the European stage.
Beware of the alligator!"
Gumbo Kings? Een vijfkoppige alligator die uit de Nederlandse moerasdelta komt gekropen.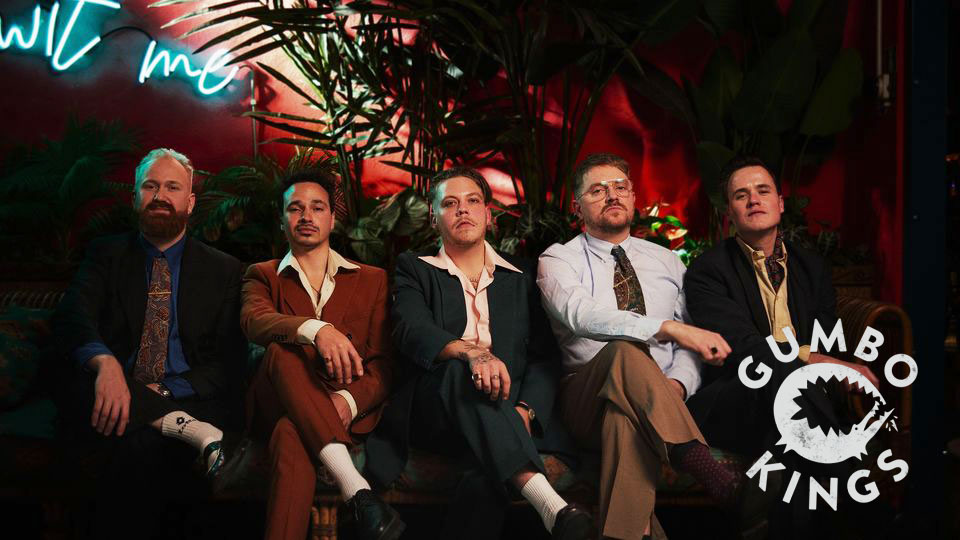 Zeer strak in het pak gestoken ook nog eens. Deze jonge muzikanten hebben een moderne en helemaal eigen kijk op hun geliefde Soul & Rhythm 'n Blues. De liveshow van Gumbo Kings brengt je een chique nachtclub binnen, waar het feestje langzaam tot het absolute kookpunt wordt gebracht. Deze jongens zijn dan ook onvervalste romantici. Kijk alleen wel uit voor de scherpe tandjes.
Sinds de oprichting werkt de band door kilometers aan podium te vreten gestaag aan een groeiende schare fans. In 2019 was Gumbo Kings de meest geboekte band van Popronde. In 2020 stond de band op het NPO Soul & Jazz podium op Noorderslag.
Met de nieuwe plaat 'In The Dark' komt Gumbo Kings met het meest persoonlijke statement tot nu toe. Het album is donkerder dan het eerdere werk, met thema's als eenzaamheid en verlangen. En ook nog eens op gedurfde wijze geproduceerd door Paul Willemsen (Michelle David & the TrueTones).
"Verrassende nieuwe jonge Nederlandse act die de zaal in een New-Orleans sfeer zal dompelen. En dan niet de toeristische Bourbonstreet, maar vooral de zompige Frenchmenstreet sfeer waar het jonge talent tot ontplooiing komt. De invloeden van Dr. John en Tony Joe White zijn overduidelijk terug te horen in de muziek van dit jonge viertal."
Musici:
Boy Vielvoye (zang, bluesharp),
Marc "Magic Johnson" Jansen (gitaar, zang),
"St. Thomas" Hanenburg (keyboards),
Jonne Venmans (bas),
Remon Hubert (drums)
Socials:
Website: https://www.thegumbokings.com/ Facebook: https://www.facebook.com/thegumbokings
Instagram: https://www.instagram.com/gumbokings/
YouTube: https://www.youtube.com/@gumbokings2598
Spotify: https://open.spotify.com/artist/1j0vpirnPJTpjYHRAInw3n

Zaterdag 29 april 2023, Grote Kerk Groede
Aanvang concert 20:30 uur, deur open vanaf 19:45 uur
Entree € 18,00

---
Wilt u sfeervol een hapje eten voorafgaand aan het concert?
De Diner-arrangementen zijn uitverkocht!