Roel Spanjers, Eric van Dijsseldonk en Wouter Planteijdt vonden elkaar ooit in hun liefde voor de legendarische muziek van The Band, en gaan samen op soortgelijke wijze vocaal te werk, hierbij dezelfde mix van Amerikaanse roots-stijlen gebruikend.
Hun repertoire bestond aanvankelijk uit songs van The Band, aangevuld met vergeten pareltjes uit de americana. Gaandeweg zijn de drie steeds meer eigen werk toe gaan voegen, waarvan een proeve is vastgelegd op hun titelloze EP uit 2015.
Voor de voorjaarstour van 2019 wordt de inspiratie voor een groot deel gehaald uit New Orleans, smeltkroes en geboorteplaats van jazz, rhythm & blues, soul en funk. Verwacht songs (in de stijl) van o.a. Fats Domino, Allen Toussaint, Dr. John en Lee Dorsey.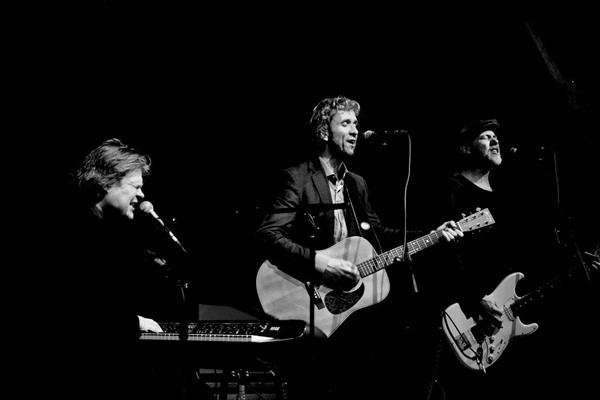 Dit alles met liefde en vakmanschap gebracht op piano en gitaren, accordeon en mandoline, met veel instrumentaal vuurwerk en fraaie driestemmige zang. En passant het bewijs leverend dat een semi-akoestisch trio zonder drummer wel degelijk kan grooven!
[photoblocks id=58]
Even voorstellen…?
Toetsenist Roel Spanjers heeft zijn wortels in blues, r&b en soul. Hij speelde piano en hammond bij o.a. JW Roy, Fréderique Spigt, Luther Allison en Normaal. Onder de naam 'Birdcatcher' bracht hij een prachtig soloalbum uit, waar ook de andere heren aan meewerkten.
Eric van Dijsseldonk was de frontman van pop/rocktrio Smalltown Romeos, voordat hij onder eigen naam, en later ook in zijn eigen taal, verder ging met mooie liedjes maken. Ook vaak te zien als de gitarist van o.a. Ricky Koole en Erwin Nyhoff.
Wouter Planteijdt maakt al drie decennia de podia onveilig met zijn eigenzinnige band Sjako! en bracht ook twee fraaie soloalbums uit. Daarnaast is hij veelvuldig actief als gitarist, songwriter en producer, o.a. bij Maarten van Roozendaal en Paul de Munnik.
Aanvangstijd 15:30u, zaal open 14:45u.
Wilt u sfeervol een hapje eten na afloop van het concert?
Er is een Diner-arrangement mogelijk i.s.m. Restaurant Café De Drie Koningen. Markt 30 4503 AH Groede. Ze zijn gevestigd vlak naast de concertlocatie.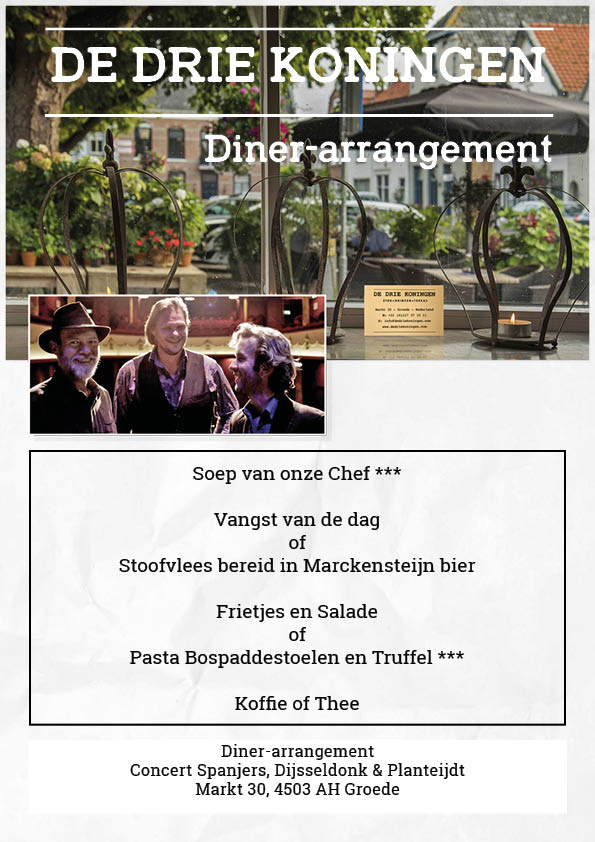 Roel Spanjers – piano/accordeon/zang
Eric van Dijsseldonk – gitaar/mandoline/zang
Wouter Planteijdt – gitaar/zang