26 mei: DAVE von RAVEN en ARJAN SPIES van The KIK.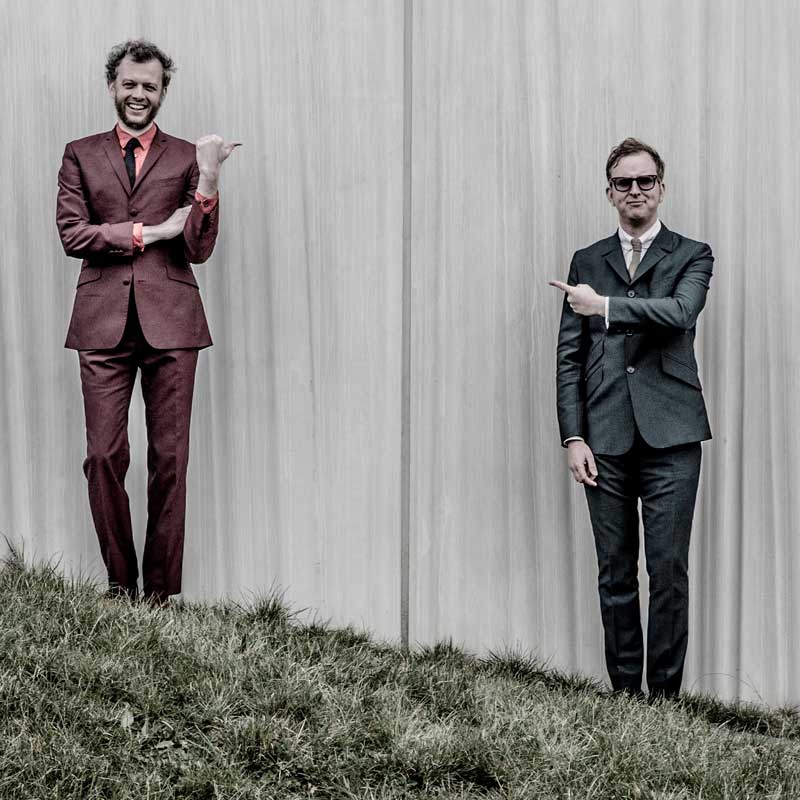 Groede Live! – poppodium
Presenteert 26 mei 2018:
Dave von Raven & Arjan Spies
Beiden zanger en gitarist van de bekende Nederlandse band The Kik.
The Kik is een (Neder)beat band die geïnspireerd wordt door grootheden uit de sixties als Beatles en Kinks. Ze werden beïnvloed door Merseybeat & Nederbiet.
Ze brachten eind vorig jaar hun nieuw album uit: The Kik hertaalt, waarmee ze hoge ogen gooiden op de Nederlandse markt. Door hun muzikaliteit en enthousiasme zijn graag geziene gasten in verschillende shows op de Nederlandse televisie.
Dave stond vorig jaar in de halve finale van de dirigenten-krachtmeting MAESTRO, waar menig televisiekijker met een brede glimlach op het gezicht zijn inbreng heeft bewonderd.
Op speciaal verzoek van het unieke Nederlandstalige combo The Kik zelf, is er nu een ook een afgeslankte akoestische variant. Althans… Dave en Arjan komen sowieso, andere bandleden haken te pas en te onpas aan, geheel volgens geen enkele afspraak.
Daar niet elke fuif of setting zich leent voor een band in vol ornaat kwamen Dave von Raven en Arjan Spies er noodgedwongen achter dat ze samen en vrijwel on-versterkt ook alleraardigst uit de verf komen. Sterker nog, ze hebben er lol in.
Een nieuwe uitdaging, die zich ideaal leent om nieuw materiaal van The Kik 'te testen' en 'klassiekers' her te bewerken. Hetzelfde enthousiasme en kwaliteit in een ander jasje.
Er zijn 175 kaarten beschikbaar voor reserveringen. Het resterende aantal is voor de losse verkoop.
Ticket reserveren? Stuur een mailtje naar groedelive@gmail.com met als titel:
"Reserveren Tickets Dave von Raven / Thijs van Leer / Frédèrique Spigt / All4Musical".
Entrée
Dave von Raven, Thijs van Leer, Frédèdrique Spigt: € 17. Jongeren tot 16 jaar: € 10
All4Musical: € 12, jongeren tot 16 jaar € 8
" 26 mei: DAVE von RAVEN en ARJAN SPIES van The KIK. Dave was halve finalist van Meastro 2017.
Voorprogramma: The Brightt. Jonge talentvolle band uit Zeeuws Vlaanderen.
" 14 juli: in het kader van Pophelden.nl: THIJS VAN LEER EN MENNO GOOTJES: FOCUS
" 29 september: FREDERIQUE SPIGT en band. On the road.
" 16 december: All4Musical. Kerstspecial All around Christmas.